The Wood Speaks
Hand Crafted Wooden Charcuterie Boards, Kitchen Utensils & More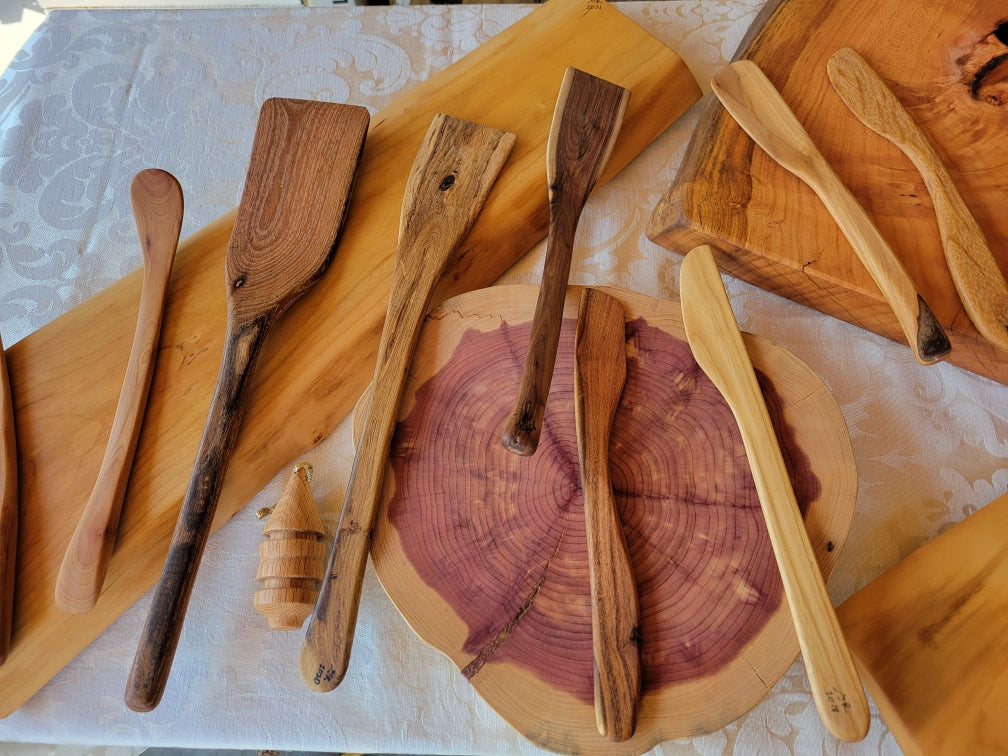 Artist Spotlight, Greg Russell
Almost 20 years ago, Greg began hand-carving spurtles and wooden spoons as a hobby, taking hints from spare pieces of discarded wood.  Sometimes he has a specific piece in mind and finds a piece of wood to match his vision.  Other times, he picks up a piece of wood and can visualize it's destiny. Each unique piece of wood inspires Greg--from the grain & color to the texture & hardness, all providing clues to its new purpose. 

His hand-crafted utensils quickly became sought after, coveted treasures among family and friends.  To the delight of those around him, from mini muffin tin molders to charcuterie boards, Greg's pieces have become more refined and complex as he continues to challenge himself towards creating pieces with even bigger purposes.  

Nowadays, Greg is always keeping an eye out for the hidden potential in overlooked (yet still beautiful) reclaimed pieces of wood that he discovers while adventuring or travelling. 

Come back soon to see what the wood has to say next!!
Shop All Wood Speaks Creations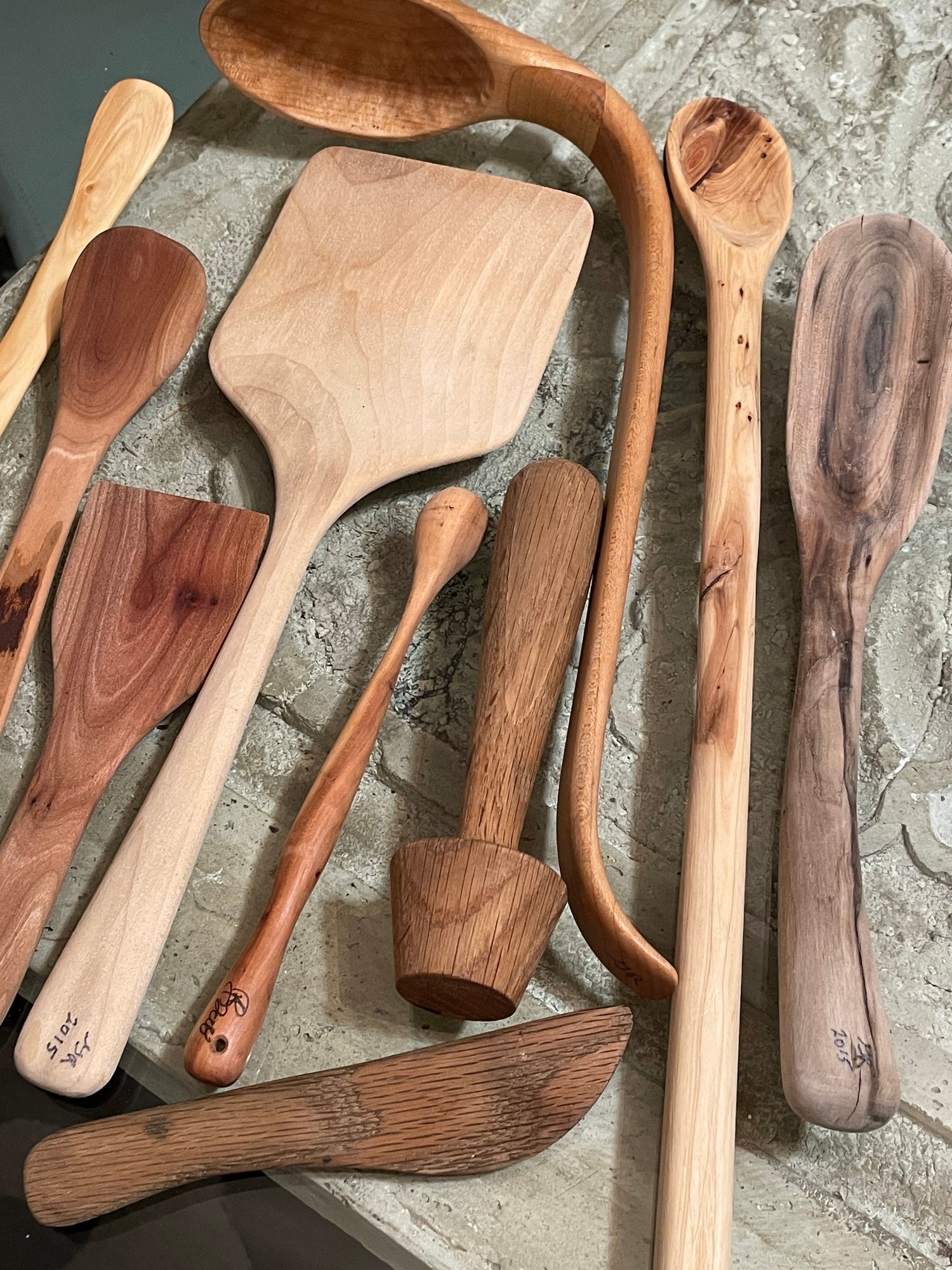 Care Tips
Wooden kitchen tools & utensils are some of the most popular and versatile items in our home. With care, they can be kitchen favorites for years or generations!
General Rules
Hand wash only -- do not submerge in water, place in dishwasher or put in microwave.
Wash immediately after use with hot, soapy water & rinse with hot water. 
Always dry thoroughly & store in a dry area.
Treat wood regularly with our custom blend finishing wax (sample size included with your purchase) or food grade mineral oil to help prevent stains and retain the integrity & strength of your pieces. Note: vegetable & nut-based oils should be avoided as they can spoil.
Special Care
Disinfect & Deodorize  Spray white vinegar onto the wood and allow it to sit for a few minutes.  Wipe with a warm, damp cloth.
Stain Removal  Baking soda, salt & warm water can be used to form a paste to scrub & deodorize.
Natural Scrub  Sprinkling salt onto wood and scrubbing it with half of a freshly cut lemon can provide a natural clean.  For extra strength, let it sit for 5 minutes before rinsing.
Nicks & Normal Wear  No matter how careful we are, over time any wooden tool can show signs of wear.  If yours need a little sprucing up, just a few minutes with some sandpaper can make it good as new.  When using sandpaper, always begin with coarser grits and move along to finer, working with the natural grain of the wood.  Wash and allow to dry.  Finish with a treatment of our conditioning wax (sample size included with your purchase) or food grade mineral oil.
Pro Tip: All Wood Speaks purchases come with a sample of our custom blend finishing wax, perfect for keeping your new kitchen favorites ready for every meal!​ Use a soft, dry cloth to apply a small amount of the mixture on any of your clean, dry charcuterie boards or utensils. Let stand from 15 minutes to overnight (until mostly absorbed). Use a second dry cloth to gently buff (using circles) until smooth.
​**A special thank you to The Potteries in Mesilla, New Mexico for the beautiful pottery included in some of our photos!**